ESSENTIAL NEWBORN PHOTOGRAPHY PROPS BEFORE YOU JUMP INTO IT
Many people like myself are addicted to props. I get asked many times over facebook or whats app where I find props from newborns and how I choose them. I consider prop shopping for a hobby. My favorite places to find unique props include Baby Oye or First cry or Local markets, where ever and whenever I see something interesting I just pick it not just before shoot so, in that way I have ample stock to use it later.
Keep it simple use only 1-3 props! Remember you don't want to compete with your subject. Newborns are tiny and delicate and they should be the focus of your image, not the prop.
Wraps
I have several wraps and use them at each newborn session. Wraps are great for starting out a session. In general, most newborns love to be wrapped. Many babies don't like to have their hands and feet free and the wrap gives them some comfort and security. If you have a newborn that is awake wrapped shots are also a great way to get them posed nicely with their eyes open. For those who are not comfortable with having their newborns posed in their birthday suits, wraps are a great alternative to clothing.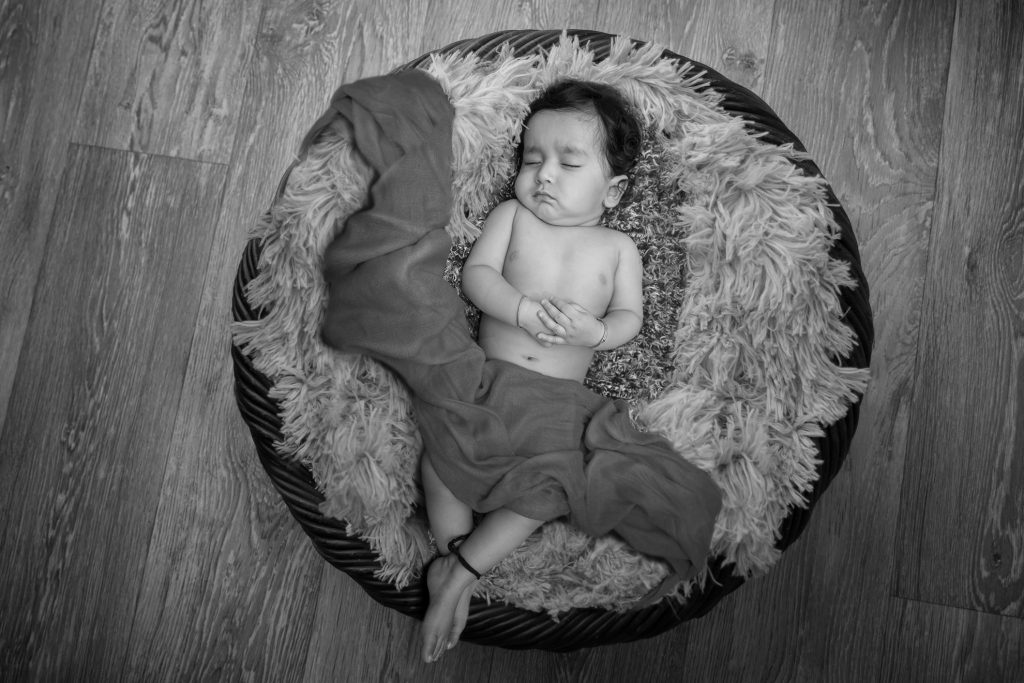 Blankets
I love to use blankets and fabrics, usually which have texture patters and that should be soft to the touch. Don't ever place newborn baby on a blanket or fabric which is rough. Also always choose the blankets or fabrics that can be washed easily. Don't forget to wash blankets and fabrics after each use. Try to choose textured blankets that compliment with baby skin. Sometimes it also can be Gander specific like blue for male babies and pink for female babies, this is just an example

Faux Furs
I love to use faux fur in baskets or bean bag. They are soft and warm and it's very comfortable for a baby to sleep on. They can also be used as flooring and photograph beautifully. There many places online available that offer faux fur for sale. Don't forget to wash furs after each use and hang them to dry.

Caps or Hairbands
During the beanbag portion, I always start photograph a newborn without a hat on first. Once I get the image then usually I place a cute hat or a sweet little headband (if it's a girl) on their head. I use Faux Furs or plain soft blanket so that portrait doesn't look too busy.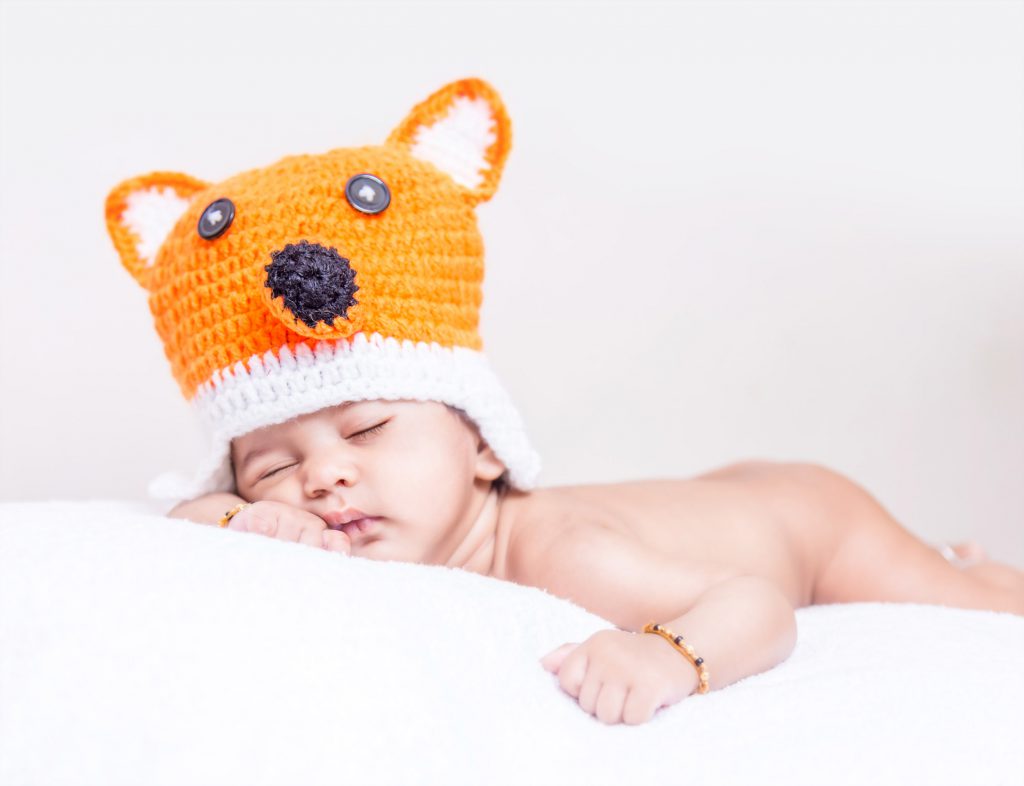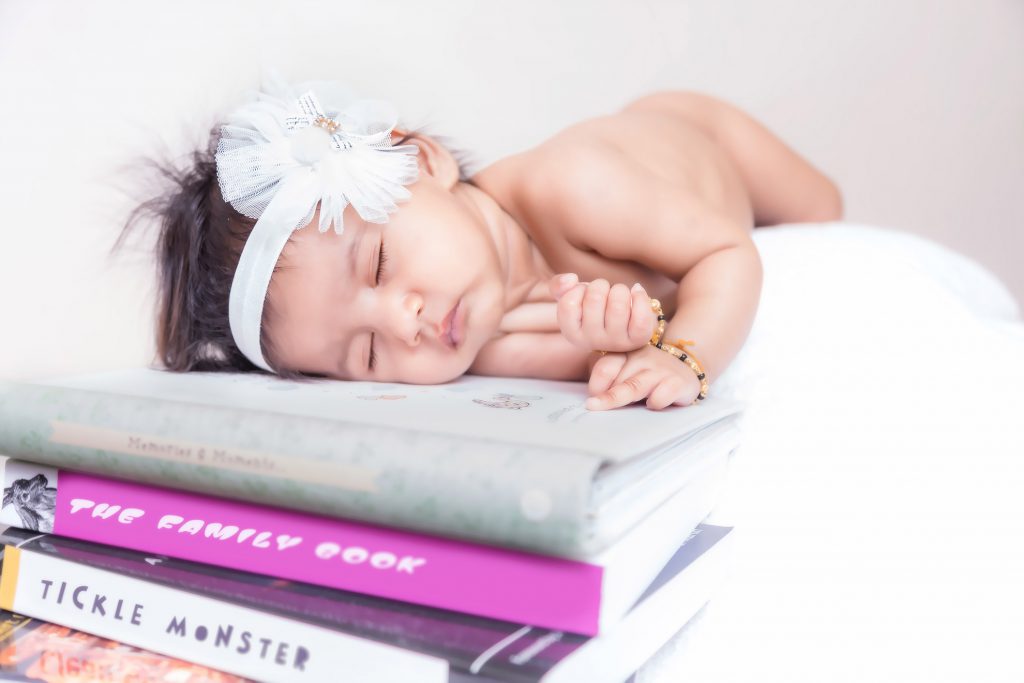 Important things to consider when shopping for props
Make sure that there are no sharp edges or anything that could be dangerous to a newborn. NEVER place a newborn in anything made of glass. Make sure that the prop does not sit too high off the ground. Be cautious when buying antique items as many of these items may contain lead paint, which can be harmful to newborns.
Important things to remember when posing newborns with props
NEVER leave a newborn unattended without someone spotting them within arm's length. If you are placing a newborn in a bucket or in baskets always make sure that there is a weight in the bottom of it so that they don't tip over. The weight should weigh more than what the baby weighs.
Always make sure that the prop is lined with something very soft and comfortable. Make sure newborn is NEVER resting on a hard or wooden surface and that their skin is never in direct contact with the prop. Newborn skin is very sensitive.
We always start with the beanbag poses first and then move to the prop shots. We usually, only do 1-3 prop setups per session.  we tend to do them last since the newborns are sleeping more soundly at that point.  I also always talk to the parents about which props are their favorite.
Be creative!  You don't have to spend a fortune on props. Some of my favorite props have been free within your studio, House or Client Place.